110+ Halloween Wishes, Greetings And Quotes 2023
Halloween 2023 is going to be celebrated on 31st October. Every year Halloween comes on October 31st, it is all about fun. It is one of the most colorful and cheerful festival or celebration in the world. Halloween is celebrated in the USA, England, European countries and some other countries too.
Although the concept of Halloween is a little scary and creepy, but it not all about fear and horror, it's just full of fun, joy, surprise, trick and treat.
Everyone enjoys a lot this festival. It is celebrated in several different ways such as carving jack-o'-lanterns and hanging spooky decoration, wearing creepy costume, hanging out with friends. For children, going door to door with creepy costume until their baskets are filled with candy.
On Halloween Day, people wish and greet each other. If you want to wish someone on this celebration by best Halloween wishes or greetings, and quotes. That's exact you get in this post.
110+Halloween Wishes, Greetings, And Quotes For 2023
Here is best collection of 110+ Happy Halloween wishes, greetings and quotes with images that you can share with your friends, colleagues, neighbors and family members.
Happy Halloween Wishes
1. Wishing you a jolly Halloween. Beware of all the ghosts who will be roaming around tonight. Happy Halloween!
2. May your Halloween filled with fun and magical surprises as well as a lot of treats. Have a safe Halloween!
3. Happy Halloween, I hope holiday crawls with happiness and is spooked with a lot of fun! Enjoy trick-or-treating!
4. I wish you a wonderful Halloween filled with fabulous adventures and cheerful moments!
5. I hope your Halloween full of witches, goblin, and candies with wonderful Halloween memories.
6. Have a fun and happy Halloween, hoping your night rocks!
7. Hope you are blessed with an amazing treat and tricks, tonight. Have a wicked and safe Halloween to you.
8. May the occasion of Halloween bless you the more fun and excitement. Warm wishes on a scary Halloween.
9. Wishing you a Halloween filled with special treats and a lot of thrilling tricks!
10. May Halloween bring you a wider variety of insights and excitements and happiness. Keep your open tonight!
11. I wish you a joyful and joyous Halloween which filled with frights and adventures. Have a fantastic Halloween!
12. Let's light up the pumpkins and put on creepy costume, go for trick and treat!
13. I wish you an unforgettable Halloween filled with creepy and cheerful memories.
14. Wishing you a fun and spooky Halloween with lots of tricks and treats.
15. I Hope you have a pleasantly frightful and fun night this Halloween. Wish you a very amazing Halloween!
Funny Halloween Greetings
1. No tricks only treat for you this Halloween!
3. A pumpkin day means Halloween is an its way.
4. Orange, black, and green there's mischief brewing this Halloween.
5. Pumpkin a blazing, hope your Halloween is amazing.
6. A jolly Halloween to you and yours.
7. Hope your Halloween bring good luck to you.
8. Hoping your Halloween is a full of scream.
9. Have a de FRIGHFUL Halloween! May all your screams come true.
10. Witches cackle, ghosts boo, Happy Halloween to you.
11. Pumpkins are craved, ghosts are seen the hour is here, Have a great Halloween.
12. Have a spooktacular Halloween.
13. Hope your Halloween is skele-TON of fun!
14. Best wiTCHES for Happy Halloween!
15. Have a boo-tiful Halloween.
Sweet Halloween Wishes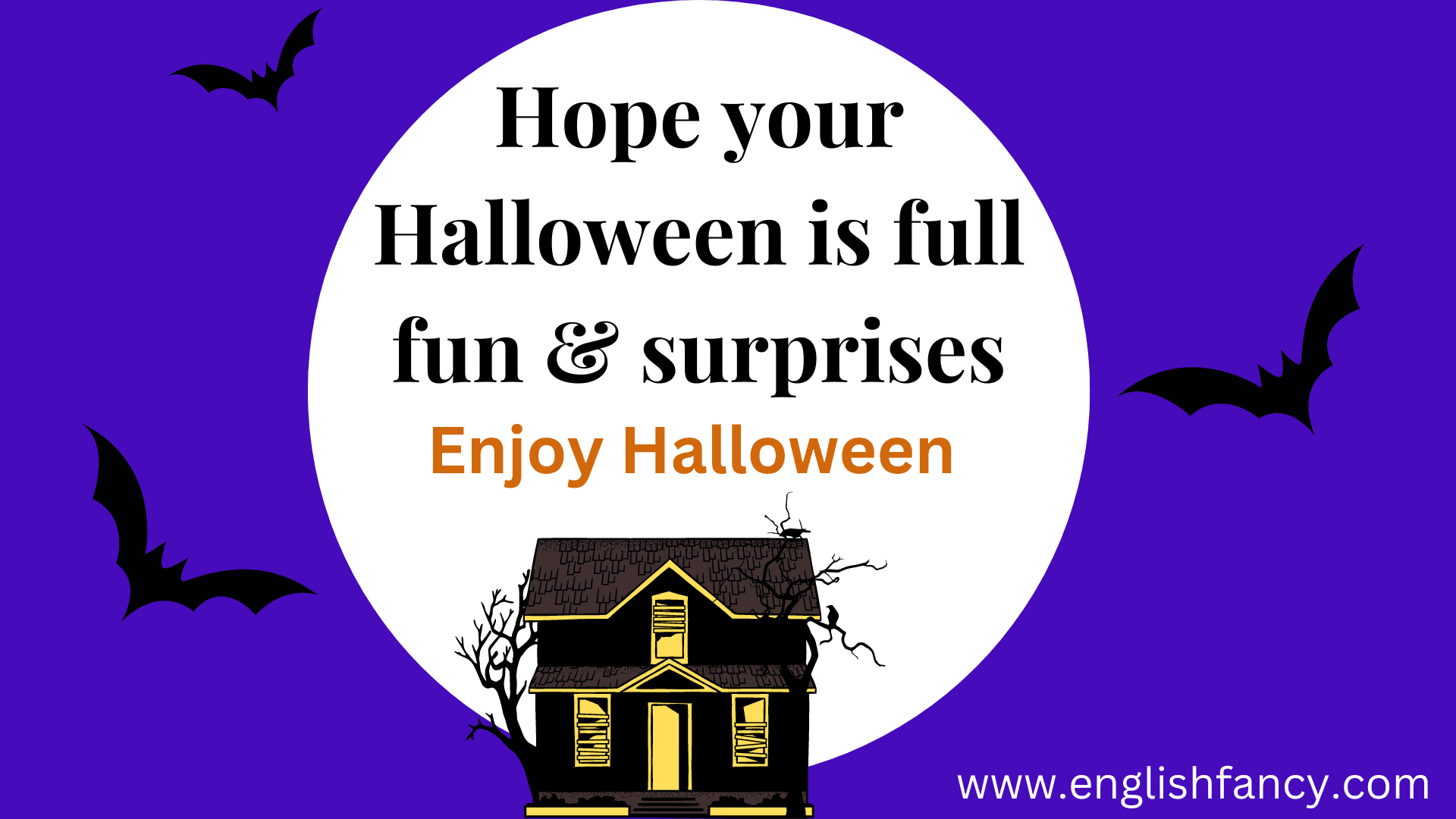 1. Hope your day is full of good times and good treats.
2. May all good sprites take over the bad sprites and make this year wonderful. Have a cheerful Halloween.
3. Wishing you a great and fantastic Halloween.
4. You are sweeter than a candy. Have an amazing Halloween.
5. Hope your Halloween is full fun and great surprises.
6. Enjoy the treat-or-trick on this Halloween, wishing you a Halloween night full of fun and joy.
7.You are the best, hope your Halloween too!
8. Have a fun-filled spooky time on this Halloween. Eat, drink and enjoy a lot!
9. Have a happy and fun Halloween- Don't be afraid of the dark, tonight!
10. Wishing you a Halloween with fun, haunted and spooky encounters!
Scary Halloween Wishes
1. Witching you an awesome Halloween!
2. Hope you don't get a skele-ton of trick-or-treat tonight! Happy Halloween!
3. Eat, drink and be scary today!
4. Wishing you a frightful and delightful Halloween.
5. Have a wicked good Halloween.
6. Boo to you Halloween a howling good time!
7. Have a killer time trick-or-treater tonight.
8. A sweet and candy day keeps the monsters away.
9. Hope your jack-o-lantern burn bright all whole night.
10. Keep calm, trick-or-treat and carry on!
11. Hope your Halloween doesn't suck like a vampire.
12. Nothing on this Earth as a beautiful as the ending of Halloween night.
13. Wishing you a creepy night of Halloween great fun!
14. Be careful and cautious, Halloween ferocious.
15. Beware of the werecat.
Halloween Wishes for Friends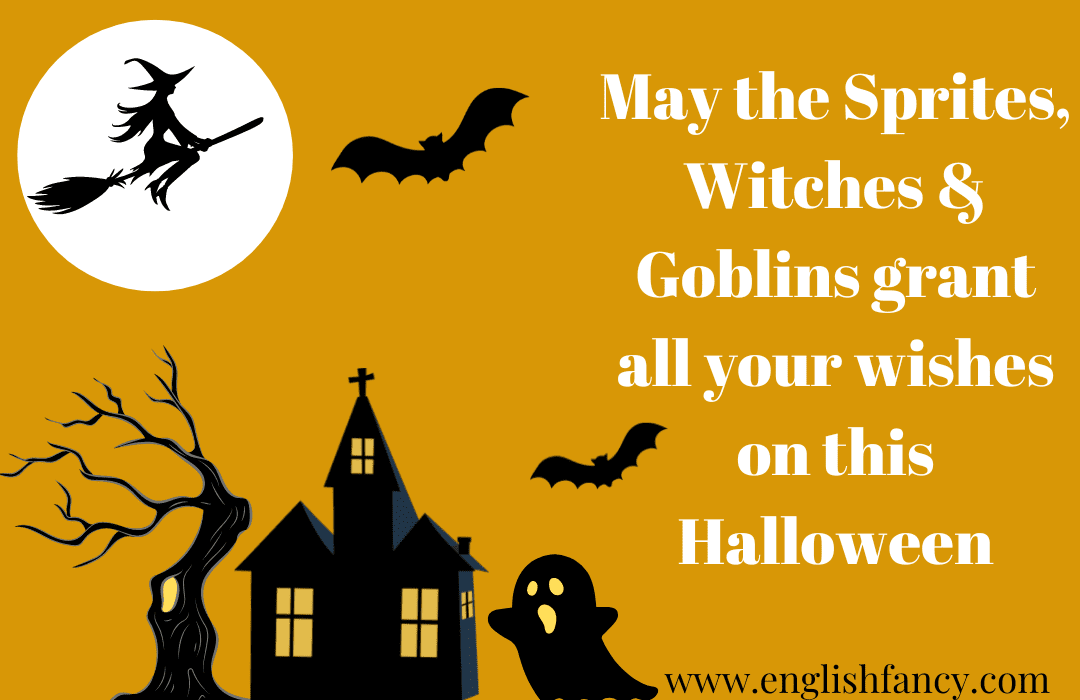 1. What's up, witch? Have a great Halloween.
2. Whishing you a killer Halloween, may you kill many people with your spooky looks this Halloween.
3. Hope the occasion of Halloween full of screams around you, monstrous costume around you and lots fun around you. Have fabulous Halloween!
4. Pumpkins are all ready to be light up and witches are also ready with their wands. Let's enjoy with creepy costume.
5. May the sprites of Halloween make your all-spooky wishes come true. Beware this Halloween.
6. Hope your costume is a big hit and your nights is full of thrilled and chills. Have a safe and happy Halloween.
7. Wishing a spectacular Halloween to you my dear and may all tricks and treats make this creepy night utterly eventful and cheerful.
8. May the frightful night of Halloween brought you many surprises and a full baskets of fun like candies.
9. Wishing you a fang-tastic night and hunted Halloween. Be prepared tonight!
10. October brings crisp, cool nights and Halloween frights.
11. May the sprites, witches, and goblins grant all your wishes on this Halloween.
12. Hope your Halloween is full of fun and spooky. Eat, drink, and be scary!
13. Trick or treat? Why not both! Have a fantastic Halloween to you.
14. I hope your Halloween doesn't suck like a vampire. Be cautious and safe!
15. Let the power of Halloween take over. Hope you a have frightful night and succeed in trick-or-treating.
Halloween Wishes for kids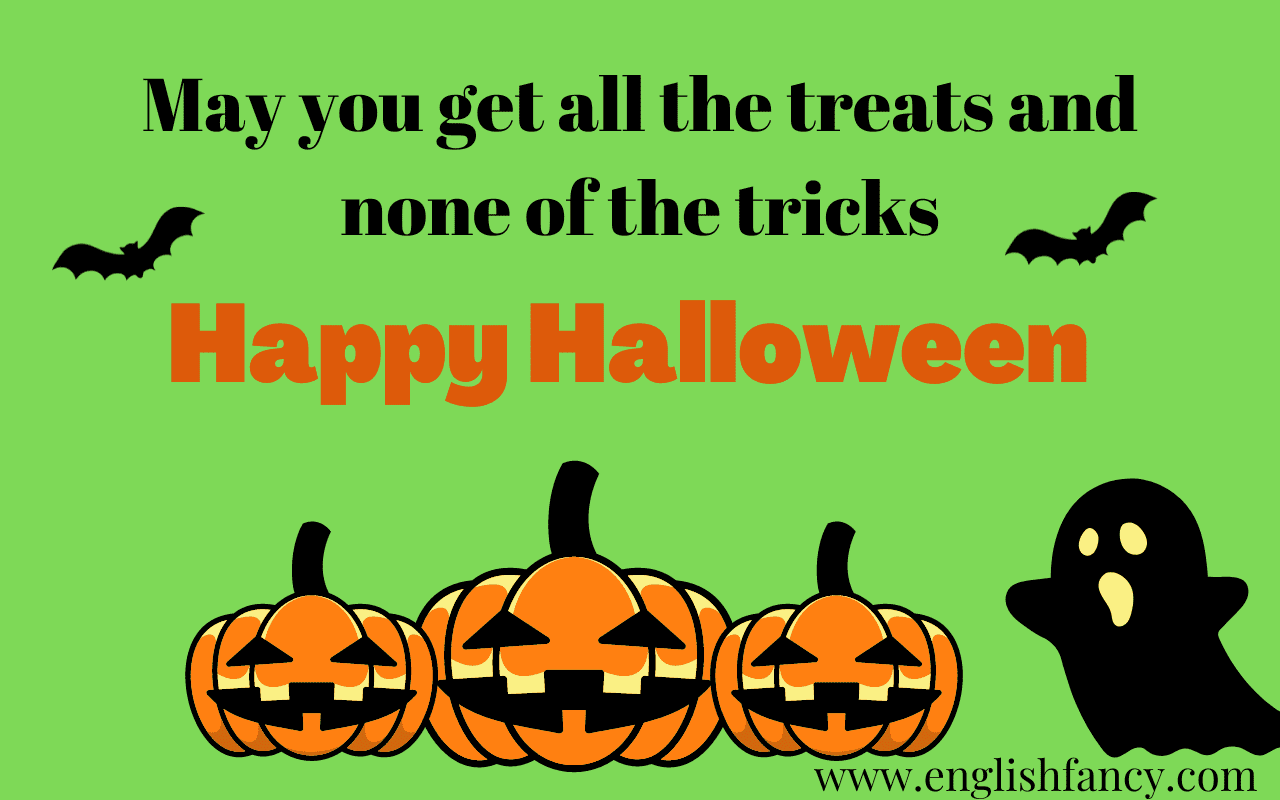 1. Don't eat all your candy at once, or else you will turn into a green monster.
2. Happy Halloween, enjoy tonight's sugar high.
3. May your candy haul last until Christmas, have a great Halloween dear!
4. Wishing you a sweet Halloween, little goblins.
5. Have a boo-tiful Halloween! May your all spell come true.
6. May you get all the treats and none of the tricks. Happy Halloween!
7. Hope your Halloween be a real scream. Enjoy tonight!
8. Have a great night of begging for candy. All the best!
9. I hope you get only treat and no tricks this Halloween.
10. Happy Halloween, put on the cute and spooky costume and enjoy!
Halloween Quotes
1. "May jack-o-lanterns burning bright, of soft and golden hue, pierce through the future's veil and show, what fate now holds for you?" – Jerry Smith
2. "Double, double toil and trouble; Fire burn and cauldron bubble." – William Shakespeare
3. "Sticky fingers, tired feet; one last house, treat or treat!" – Rusty Fischer
4. "It's all just a bunch of hocus pocus!" – Max Hocus Pocus
5. "Nothing on Earth so beautiful as the final haul on Halloween night!" – Steve Almond
6. "The farther we've gotten from the magic and mystery of our past, the more we've come to need Halloween." – Paula Curan
7. "Some people are born for Halloween, and some are just counting the days until Christmas." – Stephen Graham Jones
8. "It's Halloween; everyone's entitled to one good scare." – Brackett, Halloween
9. "When there is no more room in Hell, the dead will walk the Earth." – George A. Romero
10. Hark! Hark to the wind! 'Tis the night, then say, when all souls come back from the far away- the dead, forgotten this many a day!" – Virna Sheard
11. "The world turned upside down-in a good way- for one black velvet night." – Karen Fortunati
12. "Clothes make a statement, costume tell a story." – Mason Cooley
13. "When black cats prowl and pumpkins gleam, may luck be yours on Halloween." – Unknown
14. "Halloween wraps fear in innocence, as though it were a slightly sour sweet. Let terror, then, be turned into a treat." – Nicholas Gordon
15. "Halloween is not only about putting on a costume, but it's about findings the imagination and costume within ourselves." – Elvis Duran
I hope you loved these Halloween wishes, greetings, and Quotes that you can share with your loved one in 2023.