60 Best Happy New Year Wishes And Greetings 2024
New Year means new chapter and each new year offers an exciting opportunity for a fresh start and new beginnings. Wish the people with beautiful wishes and greetings which are given below.
Here is the best collection of new year wish wishes and greetings to wish friends, family, colleagues, boss, and someone special.
Table of Contents
Short New Year Wishes
"I Wish you a happy new year." Here instead of "Happy" we can use another alternative (adjective) which are given below that will make your short wishes much better.
Wonderful
Amazing
Dazzling
Marvelous
Great
Magnificent
Prosperous
Fantastic
awe-inspiring
Gleeful
Splendid
Example:
Wish you a fantastic new year!
Wishing you splendid new year!
Have a Dazzling new year!
Happy New Year Wishes 2024
1. I wish you a splendid year ahead!
2. Have Prosperous New Year! 2024 is definitely the year for you!
3. Have a year filled with energy and enthusiasm!
4. Time just flies, I wish you success with the flying time!
5. May this upcoming year bring you happiness and prosperity.
6. A new year is filled with possibilities, so dream big and believe in yourself this year! Have an amazing new year!
7. Here is wishing you all the joy of the season happy new year!
8. I wish you the best year yet. May you accomplish all you want with ever-present happiness!
9. Wishing that you have a truly remarkable and joyful year ahead! Fantastic new year.
10. May you achieve all you want with ever-present happiness! Wishing you the amazing year yet.
Related Link – 150+ Unique New Year Wishes and Greetings 2024
New Year Wishes for Friends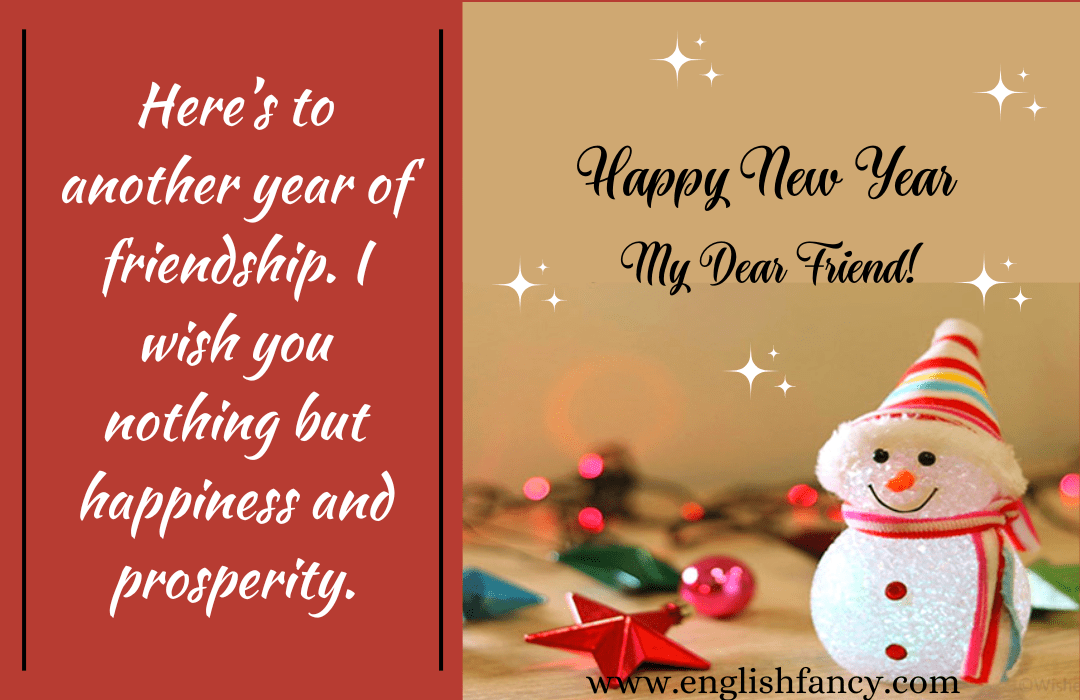 1. To all of my friends, may you have healthy, happy, prosperous and spectacular new year.
2. New Year's comes and goes, but our friendship bond will last a lifetime. Overjoyed to see what 2024 has in store for us!
3. You are all the one who stood with me through thick and thin last year. I owe you one. Happy new year!
4. I cannot imagine a year without our friendship, you bring out the best in me. Have a fabulous new year.
5. Year comes and goes but our friendship, only grow strong. Wish you a magnificent new year.
6. I'm so blessed to know that I have friends like you in my life this New Year. I wish you a dazzling new year!
7. Wishing you a great New Year dear! May it be filled with new amazing adventures and good fortunes.
8. Here is to a new year, my dear friend, I wish you nothing but lots of happiness and prosperity in 2024.
11. Let this year be the year you go after progress over perfection and savor each victory you make along the way to your goals.
10. New Years' come and go, but our bond will last a lifetime. Overjoyed to see what 2024 has in store for us!
New Year Wishes for Family
1. Sending you the very sweet wishes for the new year. May it be full of night opportunities.
2. May the closeness of you loved one, family and friend beat you with joy. Happy new year.
3. Wishing you and your family a blessed year ahead. May god's light guide your way.
4. Life changes, but my new year wish for you all remains the same, I wish you happiness, good health, and well-being.
5. There's nothing like ringing in the new year with the best people around. Have a wonderful new year!
6. May this wonderful holiday season filled with love and happiness, so glad to see what 2024 has in store for our family.
7. Every year that passes is a part of our family's legacy, and I'm really so grateful to grow up together! Cheers!
8. Here's wishing you all the joy of the season, fabulous New Year!
9. New year, new memories! Looking forward to 2024 and all it has to offer us.
10. No matter where this year takes us, we'll always feel at home when we're with family. Cheers to the new year!
New Year wishes for Special Friend / Love
1. Every day I am thankful for our friendship! and every I am thankful for you. To me one and only (name) – Amazing new year!
2. You've filled a tough year full of laughter, love, and friendship. Cheers to another year of taking on the world together.
3. I cannot wait to spend every day of the new year with you. Have a marvelous one!
4. All I wish for this new year is to spend it by you side. Too many more wonderful years together. Have a dazzling year!
5. I wish you and, cannot wait to fill this new year with good tries and great memories. Have a splendid year!
6. I hope new year brings you everything that you have ever dreamed of. Have a splendid new year!
7. The year may come and go, but our love/friendship will stay just the same as it was before.
8. (name) you are so special for me. Although we are mile apart, you're always in my heart. Wishing you a fantastic new year!
9. You have filled the past year one full of endless laughter, love & joy. I hope next year brings us the same and more!
10. You made last year super special for me. It's my greatest wish that this coming year is exceptional for you!
New Year Wishes for Boss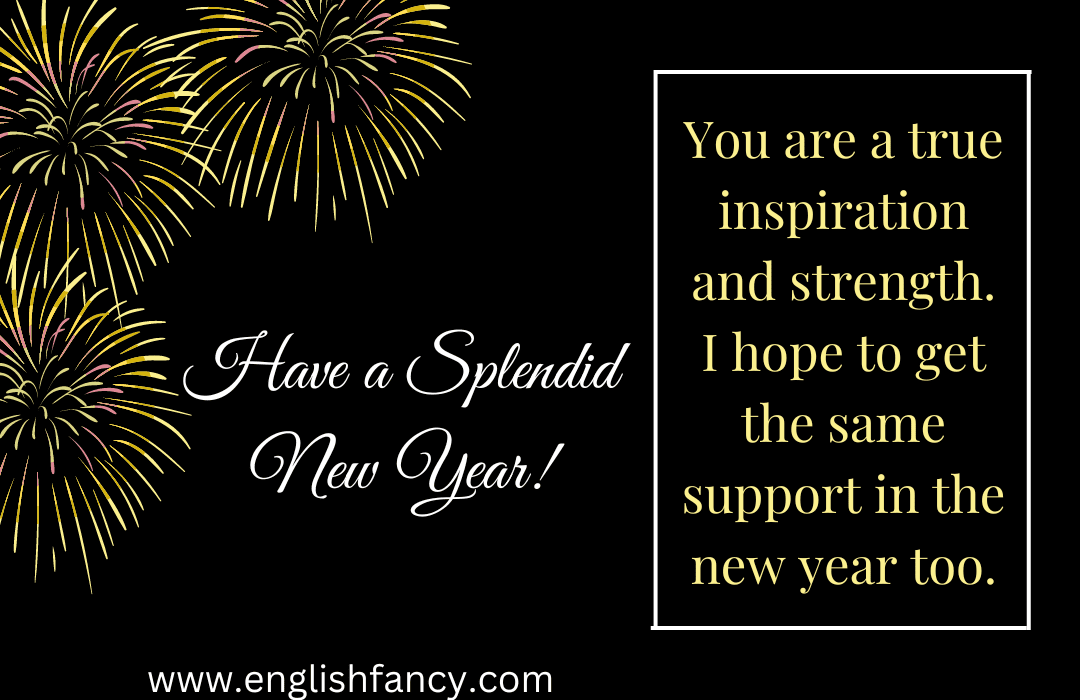 1. We have always made a great team. Let us make a year of successful stories and new achievements.
2. We're proud to have you as the boss. Hope our company accomplishes greater success with your leadership.
3. You are a true inspiration and strength. I hope to get the same support in the new year too.
4. I always feel proud of having you as my boss. Working for you is always fun. Have an amazing new year!
5. Boss, thank you so much for all yours support. Wish you a splendid new year.
6. Dear boss, you're a true inspiration to me. I am grateful to you. I wish you a splendid year!
7. I can never forget the way you supported me. Your actions have always been inspiring me. Wish you a superb year ahead!
8. I love this company as I have you as my boss without you, I have no idea when would happen. Another year is waiting for you with more success.
New Year Wishes for Colleagues /Co-Workers
1. We are so happy to have you as part of the team! wishing you happiness, health and success in the new year.
2. As we welcome the new year, I went to with you good luck in all your endeavors.
3. I am extremely grateful to have you as my co-worker you make every day so much better. Have a great new year!
4. I hope you are thrilled for the new year as I'm because I so look forward to working with you to reach new heights in the new year.
5. May this new bring your opportunities to go you are not only a colleague but a wonderful friend. Have a great new year!
6. Thank you for always going the extra mile for the team. Have a wonderful time welcoming in 2024- Have a gleeful New Year!
7. You're the glue that keeps this team together. I appreciate you & everything you've done in 2023. Have a great time ringing in 2024!
8. 2024 is going to be one heck of a year for our team. Excited to work with you more— wish you a magnificent New Year!
9. I'm extremely happy we got closer as co-workers this year. I hope you have a fun and relaxing New Year's!
10. You are really a true superstar. May the new year bring you nothing but a lot of happiness!
Happy New Year Status
1. Every new year is an opportunity to reset.
2. Every year begins with new eyes.
3. Tomorrow is a new day with no mistakes in it yet. Start the new year right.
4. Let us get rid of the life we have planned so as to have the new that is waiting for as. Have an amazing year!
5. A fresh start. A new chapter in life waiting to be written. Fill the Ink and sharpen your pencils.
6. Stay away from what you might have seen and look at what you can be in the new year.
7. New Year Same Person but New Motivations!
8. Cheers to a new year and another chance for us to get it right.
9. Tomorrow is the first blank page of a new book. Start writing best one.
10. New year, new lessons, new motivation for achievement!
New Year Funny Wishes
I. promise this year too, I will not let you to do stupid things alone cheers to our stupidity.
2. I will no longer wish you more success you have so much already, this year should be mine!
3. May all your worries and troubles last as long as your new year's resolutions.
4. It's time to make old mistakes in a little different way. Hurry up! It's already the new year.
5. Try to relax in the new year…and don't think about all of the resolutions you are supposed to be starting!
6. I don't know about you, but this year, I am ready to say bye to 2023!
Related Link – 150+ Unique New Year Wishes and Greetings 2024